Filter by Category
Knitting
Knitting - Introduction to Stranded Colorwork
with Ingrid Saxon

Next available session starts Oct 8, 2022 at 9 am
Also known as Fair Isle knitting, stranded colorwork has endless possibilities of making your knitting works of colorful art. We will practice different ways to hold your yarn while working two colors at a time as well as how to manage floats (the yarn carried at the back of the work). Materials: Lodgepole Hat pattern, available on Ravelry; size US #5 and US #7 16" knitting needles, or sizes to obtain guage; heavy DK to worsted weight yarn (amount depends on size you choose to knit). I recommend Blue Sky Fibres Woolstok, Berroco Vintage, or Malabrigo Rios. Homework: CO and complete ribbing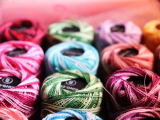 Knitting - Learn to Knit
with Ingrid Saxon

Next available session starts Oct 26, 2022 at 5 pm

, runs for 4 weeks
This class is for the true beginner. You will learn all the essential knitting skills while making a hat. You will cast on, knit flat and in the round, purl, and decrease stitches to make yourself a stylish beanie. Materials: 150 yds of a light-colored, worsted-weight yarn; size US #8 straight needles; 2 pair US #8 circular needles; 10 stitch markers; 1 needle tip protector; 1 tape measure or ruler. 
Knitting: Finishing Projects
with Ingrid Saxon

Next available session starts Dec 3, 2022 at 9 am
From weaving in your ends to blocking your finished object, with occasional seaming too, how do you get those finishing touches just the way you like? You will practice weaving in ends a few different ways with a goal of being invisible. And, you will seam two swatches together all before we cover options for blocking (setting and cleaning the fiber). All levels of experience are welcome. Homework: Knit two 4"x4" swatches in Stockinette stitch. You can use yarn and needles of your choice. Please leave 4"-6" tails at the start and end of each swatch (for weaving in). Bring your remaining yarn (or yarn in a contrasting color if you would prefer) for seaming.